West London Physiotherapy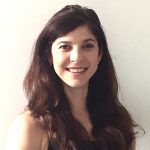 Undine
Ungerer qualified as a physiotherapist in South Africa in 2003 where she specialised in musculoskeletal and sport injuries, gaining valuable experience working with elite athletes, before moving to London in 2007.  
Undine
has studied under renowned Physiotherapists Diane Lee and LJ Lee, Joanne Elphinson and David Butler and has honed her skills in the Integrated Systems Model, JEMS Art and NOI approach to address postural problems and faulty movement patterns.  
Undine has a special interest in persistent pain conditions and uses her expertise to restore strength, stability and functional movement, as well as addressing underlying issues that could be contributing to the pain.  She encourages healthy habits that fit into your lifestyle including healthy eating, regular exercise and meditation.


Undine works under founder and Director of West London Physiotherapy, Cameron Tudor, who has two decades of experience as a physiotherapist in Australia and the UK. His experience and passion is in assisting people to regain strength and recover from injuries and long term pain.  Cameron leads a small team of excellent physiotherapists who have a particular interest in chronic or longstanding pain problems.
Cameron's team's unique philosophy forms the basis of treatment at West London Physiotherapy – a combination of listening to understand the patients' needs and the affect that pain is having in their lives, then establishing achievable goals and working together to achieve them.
Their passion is the importance of physical activity and his focus is ensuring that all patients of West London Physiotherapy receive the best possible care, enabling patients to lead a life with less pain, and more activity.
Following your assessment consultation, our Consultants in Pain Medicine may refer you to West London Physiotherapy, if they feel they are is the most appropriate people to assist you with your rehabilitation. Once we have made the referral, a member of West London Physiotherapy's team will contact you directly to arrange an appointment. Please note that the London Pain Clinic Group administration team do not administer  West London Physiotherapy's appointment diary.