Dr Stephen Humble
Consultant in Pain Medicine and Anaesthesia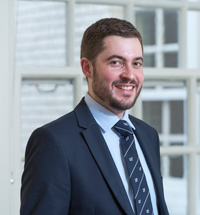 Dr Stephen Humble MBChB, MSc, PhD, FCARCSI is a Consultant in Pain Medicine and Anaesthesia at Charing Cross Hospital, St Mary's Hospital, London and The London Pain Clinic, 142-146 Harley Street, London. He also has clinics for private procedures at the Hospital of St John and St Elizabeth and The Weymouth Street Hospital, London.
He qualified in Medicine at the University of Aberdeen in 2000. He trained in Anaesthesia and Pain Medicine in Scotland and Australia respectively. In addition in 2010 he completed an MSc in Pain Management from the University of Edinburgh and in 2012 a PhD in Neuroscience.
Dr Humble's specialist clinical interests include:
Ultrasound guided procedures for joint pain
X-ray guided procedures for back and neck pain
Radiofrequency treatment for neck, shoulder, back and knee pain
Qutenza patch therapy for neuropathic/nerve pain and neuropathy
Botox therapy for headaches, facial pain, back pain and neck pain
Cancer and chemotherapy pain
Clinical Research into nerve pain
Chronic pain
His specialist skills include the assessment and treatment of neuropathic pain, regional anaesthesia and spinal interventional techniques. Within his NHS post he currently runs the Qutenza capsaicin patch service for patients suffering from peripheral neuropathic pain. He also has an honorary contract with Imperial College, carrying out a study of amputees who experience chronic pain in their stump and phantom limb pain, all of whom are being treated with Qutenza.
Another of Dr Humble's specialist interests is Chronic Post Surgical Pain. This developed from his work as both as an Anaesthetist and a Pain Medicine specialist, as he determined that there was a great need for improving the intraoperative management of patients undergoing major operations such as amputations, mastectomies and thoracotomies and experiencing post surgical pain. Particularly, he found that not enough was being done to reduce the risk of developing Chronic Post Surgical Pain in high-risk patients and thus led a small team who performed a systematic review of the relevant scientific literature in this field. The results were published in the European Journal of Pain and more than ten authors have cited the work to date. He is hopeful that the work will have a wider impact on international patient care.
Dr Humble is dedicated to keeping up to date with research and literature in his field. In 2015 he published a rapid response communication in the BMJ regarding capsaicin (hot chilli pepper); Humble SR Could hot chilli pepper consumption reduce the prevalence of chronic pain? Rapid Response to Lv et al., Consumption of spicy foods and total and cause specific mortality: population based cohort study. BMJ 2015;351:h3942 doi: http://dx.doi.org/10.1136/bmj.h3942 http://www.bmj.com/content/351/bmj.h3942/rr-12
PUBLICATIONS IN NATIONAL AND INTERNATIONAL JOURNALS:
Humble SR, Dalton A, Li L A systematic review of therapeutic interventions to reduce acute and chronic post-surgical pain after amputation, thoracotomy or mastectomy. Eur J Pain. 2015 Apr; 19(4):451-65. doi: 10.1002/ejp.567
http://spiral.imperial.ac.uk:8080/bitstream/10044/1/15411/2/European%20Journal%20of%20Pain_2014.pdf
After completing a Fellowship in Pain Medicine at the Royal Adelaide Hospital, Australia, I decided to undertake a neuroscience PhD to explore the underlying molecular mechanisms responsible for neuropathic pain. The project focused on painful diabetic neuropathy and discovered novel mechanisms related to neurosteroid compounds. The entire project, including thesis was completed within 3 years and is published in full on the www.discovery.dundee.ac.uk website.
Humble SR Neurosteroids; endogenous analgesics? PhD Thesis, submitted and accepted, University of Dundee, 2013
http://discovery.dundee.ac.uk/portal/en/theses/neurosteroids(c4659466-cd41-494d-aec6-edcf50e5274b).html
Patients with spinal injuries can have very severe neuropathic pain and I have an aggressive approach to managing their pain. Some cases can develop pain that is unresponsive to all standard treatments and I innovated with medications that were untried in this situation including Calcitonin. I discovered that severe neuropathic pain could be treated with Calcitonin if the drug was used within days of the injury (it is not effective after the symptoms have become chronic). I published the results in the journal Anaesthesia and Intensive Care.
Humble SR Calcitonin for acute neuropathic pain associated with spinal cord injury Anaesth Intensive Care 2011, 39(4): 682-6
http://www.aaic.net.au/Document/?D=20100249
RECENT PRESENTATIONS AT NATIONAL AND INTERNATIONAL CONFERENCES
I present regularly at national and international conferences and previous work has been on a wide range of subjects reflecting my clinical experience and collaboration with colleagues. At the British Pain Society Annual Scientific Meeting I was co-author on two poster presentations, which focused on novel clinical experience with spinal injection therapy and medication based therapy. The abstracts were published in the British Journal of Pain. Separately, I have published my work Internationally at the World Congress of the International Association for the Study of Pain in Buenos Aires and Milan respectively as well as at the 5th International Congress on Neuropathic Pain in Nice, France.
Kontouli Z, Humble S, Platt M, Ladas L, Jenner C Splanchnic nerve pulsed radiofrequency therapy under CT guidance may be a safe and effective treatment for visceral abdominal pain. British Journal of Pain 2015, Vol. 9(2): Suppl.1: 35 Presented at BPS ASM, Glasgow.
Kontouli Z, Humble S, Jenner C, Ladas L, Platt M Tapentadol may be useful for the management of breakthrough pain during and after haemodialysis in end-stage renal failure patients with chronic peripheral neuropathic pain. British Journal of Pain 2015, Vol. 9(2): Suppl. 1: 45 Presented at BPS ASM, Glasgow.
Humble SR, The impact of endogenous neurosteroids on inhibitory neurones of the pain pathway during physiological maturation and in the pathogenesis of diabetic neuropathic hypersensitivity. 15th World Congress of IASP, Buenos Aires, October, 2014.
Humble SR Systematic review of the management of perioperative neuropathic pain, 14th World Congress of the International Association for the study of Pain, Milan, Aug 2012
Humble SR, Neurosteroids are potential novel analgesic agents for diabetic neuropathic pain. 5th International Congress on Neuropathic Pain, Nice, France, May 2015
Dr Humble enjoys cycling, hill walking and independent cinema.
See also: